Hamel ∙ Edwardsville ∙ Glen Carbon ∙ Maryville ∙ Greenville ∙ And More
The ductwork in your home is an important part of your heating and cooling system. Regular duct cleaning will not only improve the air quality of your home, but will also help your furnace and air conditioner operate more efficiently. The extensive network of ducts makes it extremely difficult for a homeowner to clean. Your local heating and cooling professionals at Ernst Heating & Cooling can perform your duct cleaning service quickly and efficiently.
Call 618.217.1836 now to schedule duct cleaning service in Hamel, Edwardsville, and nearby areas, or contact us online.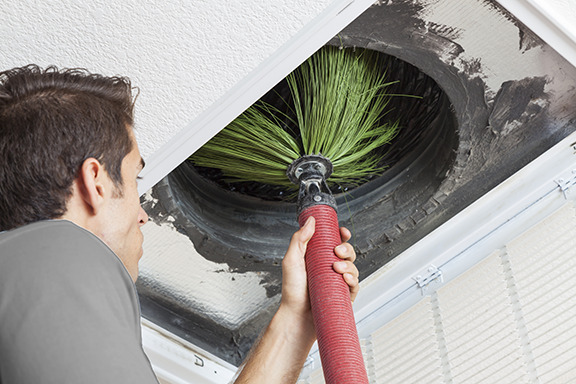 Benefits of Cleaning Your Ductwork
Your ductwork can accumulate dust and debris over time, just like other surfaces throughout your home. Whenever you enter your home or open a door, airborne contaminants from outside find their way in. Allergens, pet dander, pollen, even exhaust fumes from your garage, make it into your living area. When your furnace or air conditioner turns on, air flows through your ductwork system carrying with it all the airborne contaminants and debris that it picks up along the way.
Cleaning your ductwork on a regular basis has several benefits:
Eliminates dust and other airborne particles
Reduces the number of allergens in the air.
Improves overall air quality
Allows furnace and air conditioning units to operate more efficiently
Reduces buildup in furnace and air conditioner filters
For people who have any type of upper respiratory health condition that affects their breathing, cleaning your ducts will remove many of the irritants that affect their health.
Duct Cleaning Services in Metro East, IL
Hiring a professional duct cleaning service to clean your ducts ensures that your entire system is thoroughly cleaned, including any vents and filters. While it is up to you to make sure your filters are changed on a monthly basis throughout the year, the HVAC tech will make sure the filter housing is cleaned and has no leaks.
Most HVAC manufacturers recommend cleaning your home's ductwork at least every one to five years. Each home is different in terms of how much dust or debris is produced. People who have pets, severe allergies, smoke, or have children, should have their ductwork cleaned every one to two years. Basically, the more active your household, the less time there should be between duct cleanings. This ensures that your air quality remains as high as possible.
Contact Ernst Heating & Cooling for Duct Cleaning
If you have questions about your HVAC system or about the ductwork that runs through your home, call Ernst Heating & Cooling. We have been serving the residents of Hamel for over 71 years and have both the knowledge and experience to answer your questions and take care of all your HVAC needs. Technicians are always available to clean your ductwork or provide annual maintenance checks to make sure your system is running as efficiently as possible.
Call 618.217.1836 and schedule an appointment today to ensure your air quality is the best that it can be!