Hamel ∙ Greenville ∙ Highland ∙ Edwardsville ∙ Maryville ∙ Glen Carbon ∙ & Nearby Areas
In an area like Metro East, Illinois, where summers are hot and humid and winter temperatures range from chilly to below freezing, it's imperative that your HVAC system is up to the task of heating and cooling your home. One of the best, most energy-efficient ways to keep your family safe and comfortable throughout the year is with a geothermal system from Ernst Heating & Cooling.
With more than 72 years of service in the Hamel, Highland, and Edwardsville, Illinois areas, the experienced professionals at Ernst Heating & Cooling offer a commitment to excellence that you can trust when it comes to expert geothermal installation, maintenance, and repair.
Call Ernst Heating & Cooling at 618.217.1836 to learn more about our geothermal heat pump installation services, or contact us online to schedule an appointment!
Geothermal Tax Credits & Rebates in Illinois
Save on Geothermal Installation in Greenville, Highland, Edwardsville & More!
Tax credits and rebates for geothermal equipment are often available. Give us a call at 618.217.1836 and ask what savings are available for your geothermal energy-efficient installations!
How Does Geothermal Heating & Cooling Work?
While temperatures may fluctuate on the surface of the earth, temperatures are more consistent six feet underground, ranging between 40 and 60 degrees Fahrenheit all year round. Using geothermal technology to heat and cool your home is a cost-effective, environmentally friendly alternative to more traditional HVAC systems—and the system can be installed virtually anywhere. Ground source heat pumps are extremely versatile, as they can be installed horizontally, vertically, or even in a lake or pond.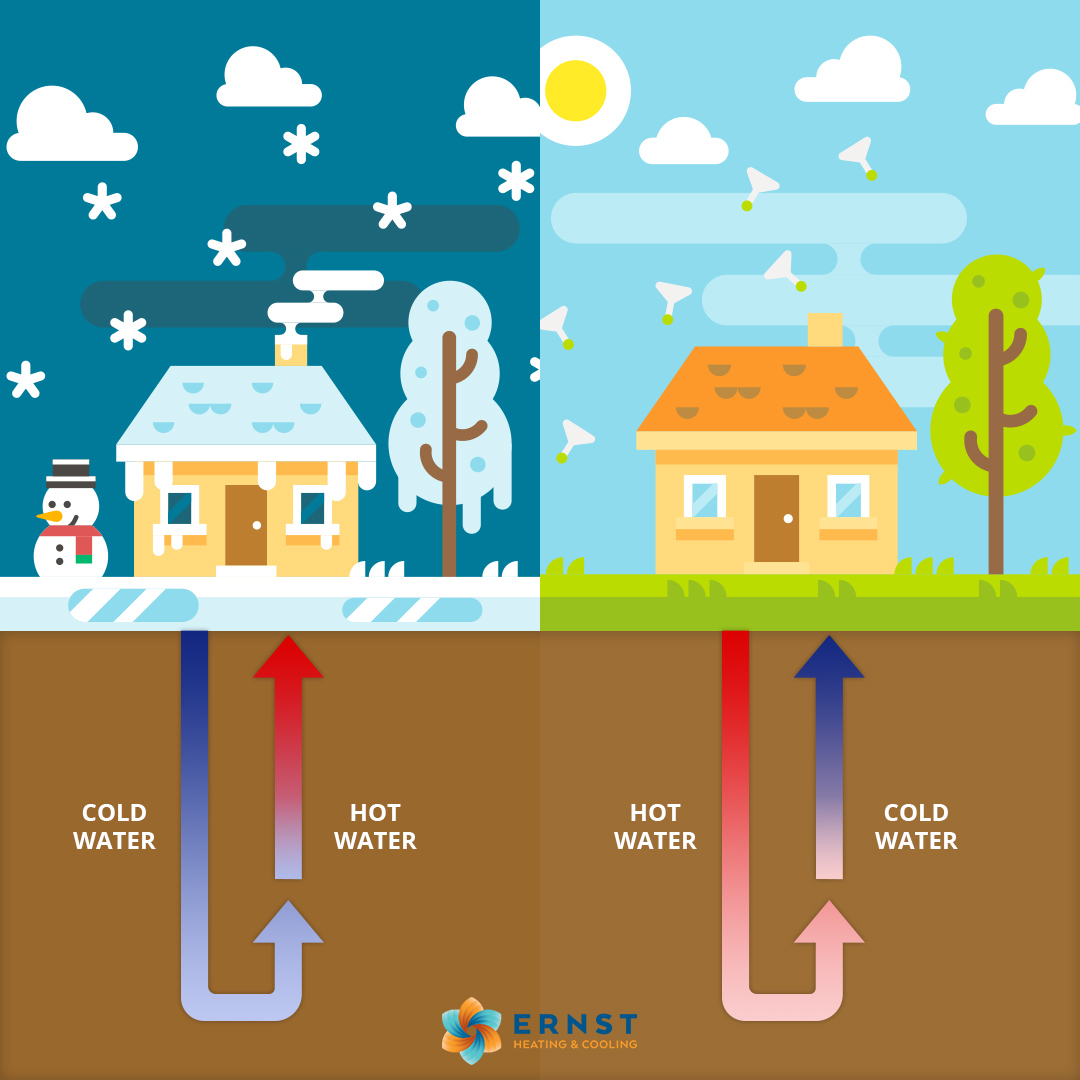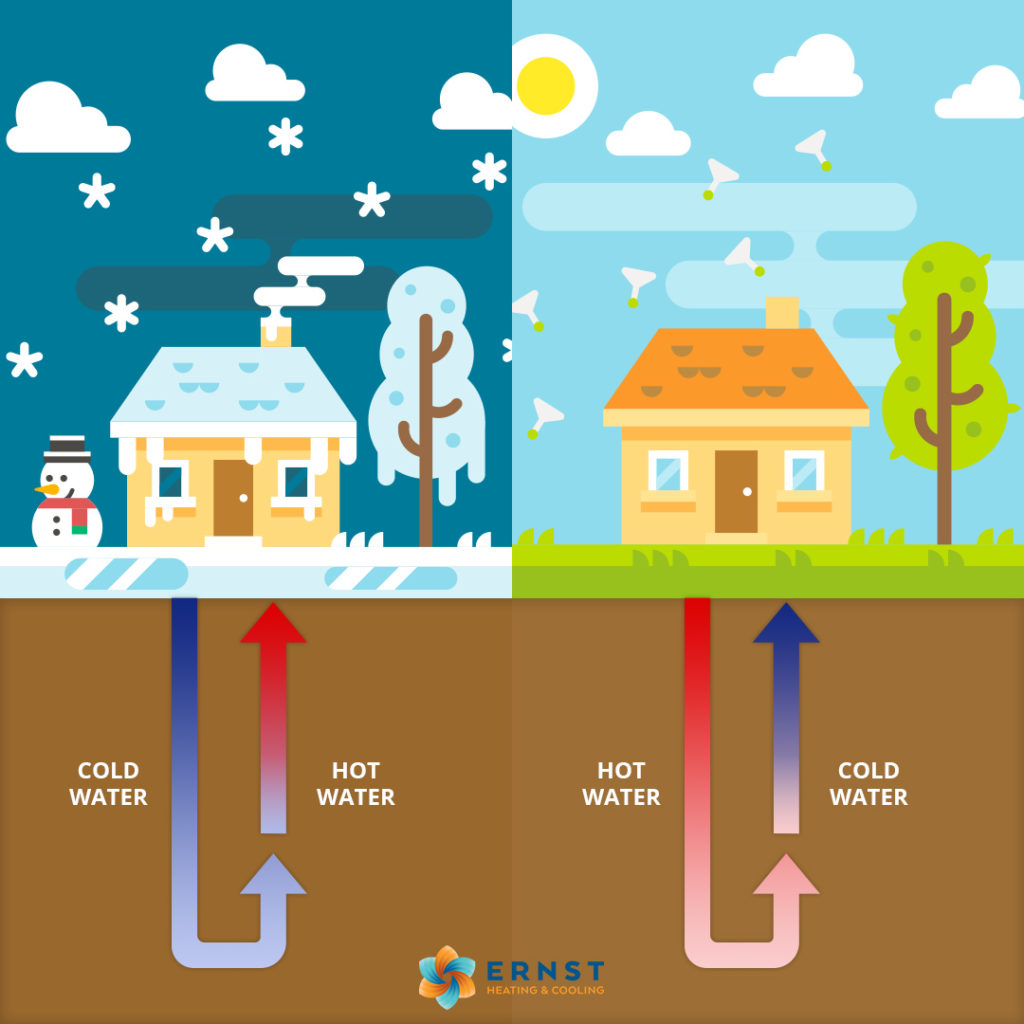 Geothermal energy is heat sourced directly from the earth. Electric ground source heat pumps are connected to an underground loop to collect heat trapped in the earth and use it to both heat and cool homes and other buildings. In the winter, the heat pumps pull heat from the ground and direct it into the building. In the summer, the heat pumps take heat from the building to cool it down.
To learn more about renewable energy solutions for your Hamel-area Illinois home, contact the HVAC experts at Ernst Heating & Cooling!
Geothermal Heat Pump Installation in Metro East, Illinois
Will a Geothermal Heat Pump System Work in Your Home?
In nearly all cases, the answer is yes! Ernst Heating & Cooling can retrofit and install a ground source heat pump almost anywhere, for any building.
If your home has existing ductwork, it is most likely sufficient for a geothermal system. Should any alterations need to be made, your Ernst geothermal technician will let you know right away. If your home doesn't have ductwork, you will be given an estimate for ductwork installation.
How Long Does Geothermal System Installation Take?
The timetable for installing a geothermal heating and cooling system depends on several variables, but typical installations are usually completed in about two days.
The experienced technicians at Ernst Heating & Cooling are extremely knowledgeable about the geothermal installation process. They will be able to answer any questions you have.
Want to learn more about geothermal energy? Learn how a geothermal heat pump can improve your Madison County home today! Call 618.217.1836 or contact us online.
Are There Benefits to Installing a Geothermal System?
Significant energy savings (20 to 50%!) isn't the only benefit of installing a geothermal heating and cooling system in your Metro East Illinois home. Additional advantages include:
Safety – Geothermal systems don't require open flames or flammable material, and all outdoor components are completely underground.
Convenience – One ground source heat pump can supply your heating, cooling, and water heating. The indoor units usually take up no more space than a traditional HVAC unit.
Low maintenance – A geothermal heat pump has fewer moving parts and is protected from the wear and tear of outdoor elements like rain, snow, ice, and extreme temperatures, so it requires minimal maintenance.
Performance – Installing a geothermal heating and cooling will keep your home warmer in the winter. The heat pumps are extremely durable, and most manufacturers offer a warranty of up to 50 years for the system's underground pipe.
Comfort – Not only will a geothermal HVAC system help eliminate "cold spots" in your home but will do so while being quiet! Unlike other heating systems, a heat pump doesn't have a noisy outdoor unit that will disrupt the peacefulness of your outdoor property. The indoor unit's noise is comparable to a refrigerator.
Money savings – Although installing a geothermal heating and cooling system requires an initial investment, you will benefit from significantly lower operating and maintenance costs for the life of the system! Most of your investment can be recouped in as quickly as three years, and you may be eligible for a federal tax credit or a utility company rebate.
Considering installing a geothermal heat pump? If you're in Hamel, Glen Carbon, Greenville, Edwardsville, Maryville, or surrounding areas, contact Ernst Heating & Cooling!
Ernst Heating & Cooling—Illinois' Geothermal Heat Pump Experts
Call

618.217.1836

to Install a Geothermal Heat Pump in Metro East, Illinois!
Geothermal heating and cooling have been used for decades as a reliable method of indoor climate control, with a number of significant benefits. Our skilled, experienced technicians will visit your home to determine the best type of ground loop system for your site, based on a number of factors such as soil type, surface water, and land availability. They will also evaluate the condition of existing ductwork to determine if alternations are required or, in cases where no ductwork is present, provide you with an estimate for installation services.
[cta href="https://www.ernstheating.com/contact_us/" main_cont="Schedule an Appointment for Geothermal Installation"]
Call Ernst Heating & Cooling at 618.217.1836 for expert geothermal installation in Hamel, Greenville, Highland, or surrounding areas.