Like a car, your air conditioner needs regular maintenance to ensure smooth and efficient operation during the hot Metro East summers. You wouldn't drive a car that has been sitting idle for months without taking it for an oil change or inspection—so you shouldn't expect your air conditioning unit to operate at peak efficiency after sitting unused all winter.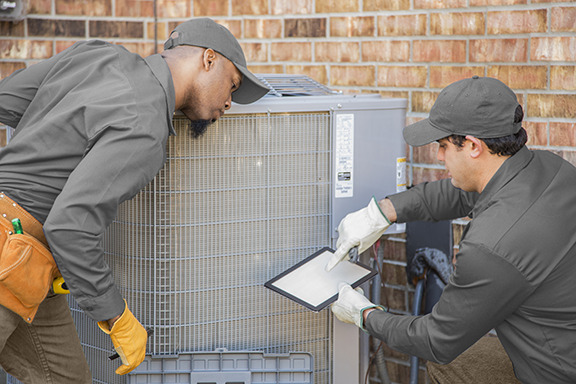 Without regular AC maintenance, you might find yourself on the hottest day of the summer calling us for emergency AC repair. So don't wait—schedule AC maintenance today to ensure your home will be comfortable all season long.
Call Ernst Heating & Cooling to schedule AC maintenance today! We serve Greenville, Highland, Edwardsville, and surrounding areas in Metro East Illinois! 
Ernst's AC Maintenance in Madison County & Beyond
Believe us, when the temperatures reach the upper 90s, there is nothing you will want more than to relax in your cool home. But if you don't schedule AC maintenance, you could be left hoping your window fan will keep your home cool (spoiler alert: it can't!).
With Ernst Heating & Cooling, you can rest easy knowing you have AC service professionals looking over every part of your system. Our precision air conditioning maintenance tune-ups include:
Professional inspection – We carefully examine every element of your air conditioner for safety and performance issues.
Cleaning – We thoroughly clean your AC's evaporator, blower, and condenser coils to help keep them running more efficiently.
Lubrication – We will examine all moving parts and make sure they are fully lubricated.
Tightening and adjustments – Our techs will test and adjust loose electrical connections, blower components, and, when necessary, adjust motor voltage and currents.
Save Money with AC Maintenance
When a technician from Ernst performs an AC maintenance tune-up, you can relax knowing we will find signs of a future malfunction. We can find small problems and fix them before they turn into expensive AC repairs—and even a complete breakdown!
Another great way to save money is an Energy Savings Agreement from Ernst Heating & Cooling. This makes scheduling your AC maintenance simple and easy. The best part? Priority scheduling and 15% off any needed repairs.
When you need AC maintenance in Metro East Illinois, including Hamel, Edwardsville, Greenville, Maryville, and Highland, there's only one name you need to know—Ernst Heating & Cooling.
Benefits of AC Maintenance from Ernst
Keeping your air conditioner maintained is the easiest way to ensure your family will remain comfortable when the hot weather comes.
With routine AC maintenance, you'll enjoy benefits like:
Lower energy bills – A properly maintained air conditioner uses energy more efficiently—which could result in lower energy bills!
Improved indoor air quality – Our tune-ups include a thorough cleaning, which means less dust blowing throughout your home's air.
Less operating noise – All the moving parts of your air conditioner will be tightened and lubricated, so you'll hear fewer hums and squeaks.
A longer life for your AC unit – Proper maintenance keeps your air conditioner running like it should.
Fewer expensive repairs – Annual tune-ups are designed to catch minor issues before they become major repairs.
Reap the benefits of AC maintenance by scheduling your appointment in Greenville, Highland, Maryville, Edwardsville, and surrounding areas in Metro East Illinois today!
Why Choose Ernst for AC Maintenance?
Why call us for your annual AC maintenance and tune-up? Ernst offers:
Options – Our techs make sure that you understand the maintenance they are performing, how long it will take, and how much it costs—and why. They will also present options to you if applicable.
Expertise – Ernst's installation technicians go through a minimum of one hour of training a week. This helps them stay on top of new technologies, HVAC trends, and new ways to help our clients.
Innovation – Ernst was the first in the area to offer geothermal energy systems, and we are always striving to be at the forefront of the industry.
Payment plans – Just ask! We have several financing options available through reputable national companies.
Don't just take our word for it—see what your neighbors are saying about our air conditioning services in Madison County and beyond!
One of the Best Local HVAC Companies in Metro East Illinois
The goal of our precision maintenance and tune-ups is to make sure your air conditioner is operating at manufacturer specifications. Proper maintenance helps save you money in the long run and lets you know as early as possible if your system is in need of repair or replacement, so you can plan accordingly.
It's easy to make an appointment for a cooling tune-up from Ernst! Just fill out this form or call us at 618.217.1836.
Need emergency air conditioner repair? We do that too! 24 hours a day, 365 days a year.
Offering AC maintenance and cooling services in: Edwardsville, Hamel, Glen Carbon, Greenville, Maryville, and more!