Contact Ernst for Furnaces, Boilers, Geothermal Heat Pumps & More!
As an Illinois resident, you know how brutally cold and snowy our winters can be. Throughout those long winter months, you rely on the warmth of your home to stay comfortable. If the temperatures drop below freezing and your home's heating system goes kaput, you need a reliable HVAC company at your beck and call—like the heating professionals at Ernst Heating & Cooling!
You and your family deserve to be comfortable all winter long. If your Madison County heating system needs to be replaced or repaired when the temperature outside becomes unbearable, schedule an appointment with Ernst Heating & Cooling or call us today at 618.217.1836!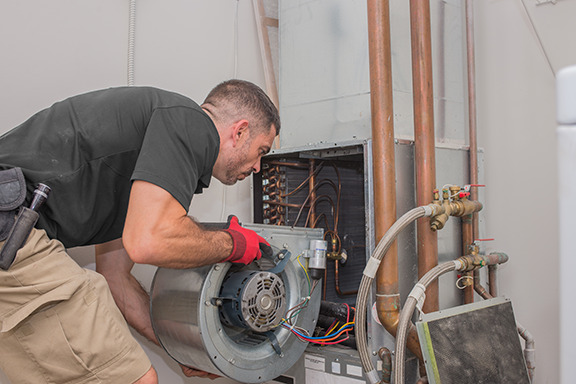 Metro East Illinois Heating Services
Furnace Installation in Hamel, IL
Ernst Heating & Cooling will keep you and your family comfortable in your Illinois home all winter long by ensuring your heating system is the right size and will operate as efficiently as possible. A new furnace offers many benefits, including:
Increased energy efficiency, often resulting in lower energy bills
Fewer breakdowns and repair costs
Consistent and dependable heating throughout your entire home
We understand the importance of a reliable heating system. No one want to be stuck without a working furnace on a night when temperatures drop below zero. You and your family need a heating system you can depend on—which is why we install Lennox furnaces. We have found them to be the most durable, reliable, and efficient furnaces on the market today!
For a furnace installation in your Hamel, Illinois home, call Ernst at 618.217.1836! Our heating technicians will install a furnace that delivers consistent heat throughout your entire home, providing comfort for you and your family when the temperature reaches below freezing.
Furnace Repair in the Hamel Area
We've been fixing furnaces for more than half a century. We can diagnose and repair any furnace problem! If you are experiencing any of the following furnace problems:
System won't start up or stay on
Unusual whining or groaning noises
Inconsistent heating in different rooms
Yellow pilot light
If your gas or electric furnace unit is exhibiting any of these problems, give us a call sooner rather than later—addressing a small problem now can save you money in the long run.
Contact Ernst Heating & Cooling for furnace repair service in the Hamel area.
Geothermal Heat Pump Installation in Maryville, IL Area
Geothermal energy is heat sourced directly from the earth. Electric ground source heat pumps are connected to an underground loop to collect heat trapped in the earth and use it to both heat and cool homes and other buildings. In the winter, the heat pumps pull heat from the ground and direct it into the building. In the summer, the heat pumps take heat from the building to cool it down. There are many advantages to installing a geothermal heat pump in your home, including:
Reduced monthly energy bills
Improved efficiency
Less necessary maintenance and repairs
The experienced technicians at Ernst are extremely knowledgeable about the geothermal installation process. They will be able to answer any questions you have.
Want to learn more about geothermal energy? Call Ernst Heating & Cooling at 618.217.1836or contact us online.
Geothermal Heat Pump Repair in Madison County
Most geothermal heat pump problems are caused by leaks, disconnected wires, defective valves, broken heat exchangers, or malfunctioning loop systems. These problems typically manifest themselves in the following ways:
Insufficient heating or cooling
Filters are clogging more frequently than usual
Experiencing unusual noises
System won't turn on
Uncontrollable humidity
If you experience these or other geothermal heat pump problems, contact Ernst Heating & Cooling right away. We'll dispatch one of our expert repair technicians to diagnose and solve the issue.
Call 618.217.1836 for geothermal heat pump repair in Hamel, Maryville, and the surrounding areas in Madison County.
Boiler Services in Metro East, IL
At Ernst Heating & Cooling, we offer boiler system installation, replacement, and repair for you and your Madison County neighbors. Is your home's heating system giving you problems? Are you not receiving consistent heat, or is your boiler breaking down on a regular basis? Have you noticed leaks coming from the boiler tank? When your boiler isn't operating as it should call Ernst Heating & Cooling. We provide reliable boiler repair and installation in Hamel and the surrounding Metro East area if your boiler is exhibiting the following signs:
Insufficient heating
Won't fire up
Leaking from the boiler tank
Pilot light won't stay lit
Unusual whining noises
Call Ernst at 618.217.1836 or contact us online to learn more about our boiler installation and repair services in Madison County, and the surrounding Metro East area.
Ernst Heating & Cooling—Illinois' Heating Service Experts
Contact Ernst for Heating Services in Hamel, IL
Based out of Hamel, IL, Ernst Heating & Cooling is here to provide all of your residential heating and cooling needs. Since 1954, we've been working on building and maintaining our strong reputation for providing Madison County with expert heating and cooling services.
Why call us? Ernst offers:
Options. Our techs make sure that you understand the system we're installing, how long it will take, and how much it costs—and why. They will also present options to you if applicable.
Expertise. Ernst's installation technicians go through a minimum of one hour of training a week. This helps them stay on top of new technologies, HVAC trends, and new ways to help our clients.
Innovation. Ernst was the first in the area to offer geothermal energy systems, and we are always striving to be at the forefront of the industry.
Payment plans. Just ask; we have several financing options available through reputable national companies.
Emergency service. Don't forget that we offer emergency HVAC repair 365 days a year!
Don't let an inefficient heating system put a chill in your family's comfort! Ernst offers scheduled and emergency heating services throughout Madison County and the Metro East area—just call 618.217.1836 or make a service appointment online.