Call Ernst Heating & Cooling for Furnace Installation, Repair & More!
As the temperatures outside begin to drop, you begin spending more of your time indoors. But if your home's heating system isn't operating efficiently, your home may be as cold as the winter weather outside! Don't let your family get cold this winter. Whether your Hamel-area home needs a new furnace installed, an old one replaced, or your current furnace system repaired, Ernst Heating & Cooling is at your service!
For furnace installation, maintenance, or repair in the Madison County area, call Ernst Heating & Cooling today at 618.217.1836!
Furnace Installation in Madison County, IL
Ernst Heating & Cooling will do our best to keep you and your family comfortable in your Illinois home all winter long by making sure your home's heating system is the right size! If your furnace is not sized correctly for your Hamel-area home, it will not operate as efficiently—costing you unnecessary money! Installing a new furnace or replacing an outdated heating system offers many benefits, including:
Increased energy efficiency, often resulting in lower energy bills
Fewer breakdowns and repair costs
Consistent and dependable heating throughout your entire home
We understand the importance of a reliable heating system. No one wants to be stuck without a working furnace on a night when temperatures drop below zero! On those nights, layers and layers of blankets just won't cut it. You and your family need a heating system you can depend on—which is why we install Lennox furnaces. We have found them to be the most durable, reliable, and efficient furnaces on the market today!
For a furnace installation in your Hamel, Illinois, home, call Ernst at 618.217.1836! Our heating technicians will install a furnace that delivers consistent heat throughout your entire Madison County home, providing comfort for you and your family when the temperature reaches below freezing.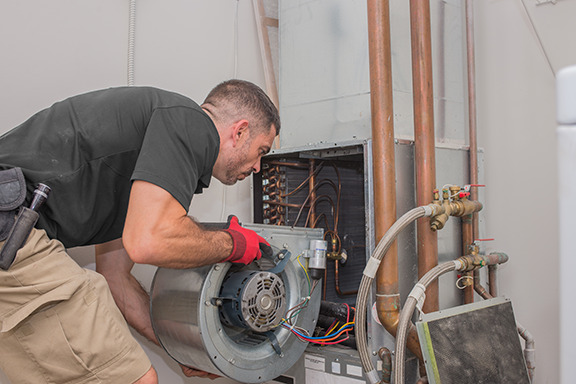 Furnace Repair in the Hamel, IL, Area
When it comes to diagnosing furnace problems and resolving them quickly and efficiently, you need an HVAC company you can count on for emergency service 24 hours a day, 7 days a week, 365 days a year! Our team of heating specialists has been fixing furnaces for over half a century. We can diagnose and repair any furnace problem! Contact Ernst Heating & Cooling if you are experiencing any of the following furnace problems:
System won't start up or stay on
Unusual whining or groaning noises
Inconsistent heating in different rooms
Yellow pilot light
If your gas or electric furnace unit is exhibiting any of these problems, give us a call sooner rather than later—addressing a small problem now can save you money in the long run!
Has your furnace been giving you trouble? Don't worry—our team of furnace technicians can help! Contact Ernst Heating & Cooling for furnace repair service in the Hamel area. We offer 24/7 emergency furnace repair!
Furnace Maintenance in Metro East, Illinois
Think about it—your furnace sits unused for half the year. Would you try to make a long-distance drive in a car that's been sitting unused for that long? We don't think so—and if you tried, you probably wouldn't make it very far! The same goes for your furnace. Without proper maintenance throughout the year, your furnace won't be operating at maximum efficiency. Luckily, Ernst Heating & Cooling offers an Energy Savings Agreement to save you time, hassle, and money!
With the Ernst Energy Savings Agreement you receive:
Two precision tune-ups a year (one on the air conditioner, one on the furnace)
A 15 percent discount on any repairs
Priority scheduling
Automatic scheduling of maintenance appointments—you won't have to remember to call us; we'll call you to set the appointment!
A 15 percent discount on filters
Peace of mind knowing that you have done everything you can to reduce the risk of a major breakdown!
Ensure your furnace will keep you and your family comfortable when Illinois' frigid winter arrives! Contact Ernst Heating & Cooling today to learn more about our furnace maintenance agreement!
Ernst Heating & Cooling—The Furnace Experts of Illinois
Contact Ernst for Heating Services in the Metro East
Based in Hamel, IL, Ernst Heating & Cooling is here to provide all of your residential heating and cooling needs. Since 1954, we've been working on building and maintaining our strong reputation for providing Madison County with expert heating and cooling services.
Why call us? Ernst offers:
Options. Our techs make sure that you understand the system we're installing, how long it will take, and how much it costs—and why. They will also present options to you if applicable.
Expertise. Ernst's installation technicians go through a minimum of one hour of training a week. This helps them stay on top of new technologies, HVAC trends, and new ways to help our clients.
Innovation. Ernst was the first in the area to offer geothermal energy systems, and we are always striving to be at the forefront of the industry.
Payment plans. Just ask; we have several financing options available through reputable national companies.
Emergency service. Don't forget that we offer emergency HVAC repair 24/7, 365 days a year!
Don't let an inefficient heating system make your Illinois home uncomfortable this winter! We offer scheduled and emergency furnace services throughout Madison County and the Metro East area—just call 618.217.1836 or make a service appointment online.