Our HVAC Service Area in Metro East, Illinois
Whether you're looking for a heating contractor, cooling specialists, or an HVAC team that can boost home energy efficiency and air quality, you'll find exactly what you're looking for with the technicians and service experts at Ernst Heating and Cooling. Our family has been proudly serving the Metro East Illinois Area for over half a century. By offering a customer-focused approach and putting the needs of our clients above all else, we've built a business that revolves around reliable results and unparalleled satisfaction.
Ernst Heating and Cooling offers a complete range of HVAC and home quality services, so whether you're looking for a cooling repair team that can act fast and get the job done right or a team that can install your new furnace with precision and care, you can rest assured that we have you covered across the board.
We also offer our Energy Savings Agreement to all homeowners—a service package that is designed to save you money and add comfort by way of routine tune-ups, discounts, priority service, and other exclusive perks. To find out more get in touch with a team member online today!
Want to know if the experts at Ernst Heating and Cooling serve your area? Check our list of service areas below to see, and if you're on the list contact us online or call (618) 887-6093 to set up an appointment!
Ernst Heating & Cooling
202 W State Street
Hamel, Illinois 62046
618-887-6093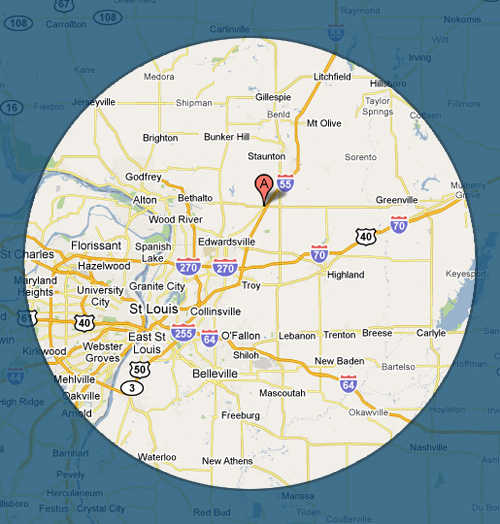 Alhambra
Alton
Beckemeyer
Belleville
Benld
Bethalto
Breese
Brighton
Bunker Hill
Caseyville
Coffeen
Collinsville
Cottage Hills
Donnellson
Dorchester
Dorsey
Dow
Eagarville
East Alton
Edwardsville
Elsah
Fieldon
Gillespie
Glen Carbon
Godfrey
Grafton
Granite City
Greenville
Hamel
Hartford
Highland
Hillsboro
Irving
Jerseyville
Lebanon
Litchfield
Livingston
Marine
Maryville
Mascoutah
Mitchell
Moro
Mount Olive
Mulberry Grove
New Baden
New Douglas
O'Fallon
Panama
Piasa
Pierron
Pocahontas
Ramsey
Roxana
Saint Jacob
Sawyerville
Smithboro
Sorento
South Roxana
Staunton
Summerfield
Taylor Springs
Trenton
Troy
Walshville
White Hall
Wilsonville
Witt
Wood River
Worden
Bond County
Macoupin County
Madison County
Jersey County
St. Clair County
Service in Just Hours
What People Are Saying About Ernst
Reviews for Ernst Heating & Cooling
291 customer reviews
Average rating:5
New service person was being trained. All went well. Very satisfied with service.
by
boneva w
on
08/06/2019
Chris was the service person. He was very thorough, knowledgeable, and able to answer all my questions and concerns....
If you have a geothermal unit there is absolutely not another company with Ernst knowledge of the system; maintenance...
The A/C wasn't cooling as of late Fri.. I called the office, they said a service rep. could be out sometime Sat. ...
by
Richard (Brent's Uncle) r
on
07/26/2019
Responsive and capable techs-Seth is extraordinary.
More Verified Reviews