When winter approaches, you want to have a reliable furnace that can keep up with all of your heating needs. Your friends and family in the Madison County area choose Ernst Heating & Cooling because of our expertise and dependability. As a Dave Lennox Premier Dealer™ serving the Metro East Illinois area, we provide our customers with quality Lennox heating, cooling, and air quality products. Our team will help you select and install a furnace that you can depend on for years to come!
Do you need to schedule furnace installation in the Hamel area? Call Ernst today at 618.217.1836.
Ernst Installs Energy-Efficient Lennox Furnaces

We install Lennox furnaces due to their dependable and durable track record. All gas furnaces from Lennox have an AFUE rating of 80% or higher, which means they are also an energy-efficient option! A furnace's Annual Fuel Utilization Efficiency (AFUE) rating tells you what percentage of the furnace's fuel becomes heat. The higher the percentage, the more energy efficient your furnace.
We can help you choose the right furnace for your home by taking your budget and unique heating needs into account. Contact us to speak with one of our heating technicians!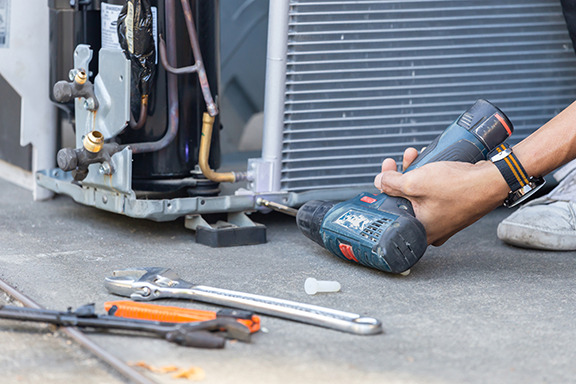 Lennox Furnace Installation
Ernst installs Lennox furnaces because we have found them to be the most durable, reliable, and efficient furnaces on the market today. Lennox offers several different furnaces to meet a variety of needs and budgets. You can choose a Lennox furnace from three categories:
Dave Lennox Signature® Collection – AFUE ratings of up to 98.2%
Elite® Series– AFUE ratings ranging from 80 to 96%.
Merit® Series – AFUE ratings of 80 to 95%.
Your knowledgeable Ernst furnace installer can help you decide which furnace is the best choice for you and your family. To learn more about Lennox heating options for your home, click here!
How Do I Know If I Need a New Furnace?
When your furnace is worn down and no longer able to provide your home with the heat you need, it's time for a replacement. Ask yourself the following questions to see if it's time to schedule furnace installation:
Is the furnace more than 15 – 20 years old? An older furnace is typically less efficient and is probably creating higher energy bills than a newer model would.
Have your energy bills been rising with no obvious explanation? Your furnace may be losing its efficiency, and if it's working harder to produce heat, it costs you more.
Is your furnace repair estimate $500 or more? If so, installing a new, efficient model is probably a better investment and will save you money in the long run.
If you are having trouble deciding between furnace repair or replacement, call us at 618.217.1836, and we can help you determine the most cost-effective solution for your Madison County home.
How Long Does It Take to Install a Furnace?
In most cases, it takes about one day to install a furnace. Your installation time may vary depending on your home. You can rely on the technicians at Ernst Heating & Cooling for a quality furnace installation service. Safety and quality are our top considerations in all services we provide. If you have specific questions regarding your furnace installation, please call 618.217.1836.
How Much Does Furnace Installation Cost?
Does Ernst Heating & Cooling Offer Furnace Specials & Promotions?
Save on your furnace installation with Ernst Heating & Cooling! Our list of rebates and discounts will make replacing your furnace more affordable for your family. Check out our specials here!
Call for Furnace Services in Madison County
In addition to new furnace installation, Ernst also offers:
We also provide heating services for geothermal systems, heat pumps, and boilers. Call today!
Choose Ernst for Furnace Installation near Hamel, IL
When you choose to work with Ernst Heating & Cooling, you get a dedicated team of experts who specialize in quality HVAC service and customer satisfaction. Why else do our customers choose Ernst for all of their heating and air conditioning service?
We spend time with you. Our techs make sure that you understand the system we're installing, how long it will take, and how much it costs—and why. They will also present options to you if applicable.
We are knowledgeable. Ernst's furnace installation technicians go through weekly training. This helps us stay on top of new technologies and HVAC trends!
We are advanced. Ernst was the first in the area to offer geothermal energy systems, and we are always striving to be at the forefront of the industry.
We offer financing. Just ask; we have several plans available to meet each customers' unique budget.
Call Ernst Heating & Cooling at 618.217.1836 to learn more or to schedule an appointment.