Did you know that the air inside of your home is most likely more polluted than the air outside? We know, it's hard to believe—but it's true! Ernst Heating & Cooling is here to help find the best indoor air quality solution that will have you breathing easy!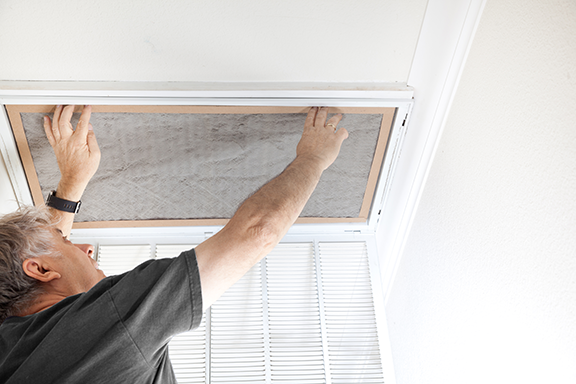 Is Ernst Heating & Cooling Near Me?
Ernst Heating & Cooling installs IAQ systems in Greenville, Highland, Maryville, Edwardsville, Hamel, throughout the Metro East.
Schedule an appointment today for precise installation of filtration systems, humidifiers, and dehumidifiers.
Whole House Dehumidifier Installation
Excess moisture encourages mold and mildew growth, as well as an increase in dust mites. It also attracts insects and causes wood floors, doors, and trim to warp. If your Metro East home suffers from excess moisture, whole house dehumidifier installation can make a world of difference.
At Ernst, we install Honeywell and Aprilaire dehumidifiers.
Aprilaire Whole-Home Dehumidifier – This system senses the level of humidity automatically, so your home never gets too dry. It works with your air conditioner as well as on its own, to remove just the right amount of moisture. Quiet and low-maintenance, these whole-home systems also reduce the polluted air in your home.
Honeywell Whole-House Dehumidifiers – Honeywell's whole-house models come in several different capacities to suit homes of different sizes. With automatic drainage and once-yearly filter replacement, these dehumidifiers require minimal maintenance. In addition, they allow your air conditioner to run more efficiently while sending fresh, filtered air into your home.
Call Ernst Heating & Cooling at 618.217.1836 to schedule a dehumidifier installation in Madison County and surrounding areas.
Air Filtration System Installation
Air filtration systems capture airborne pollutants, keeping them from entering your home and potentially causing illnesses or aggravating allergies or asthma symptoms.
We install Lennox Healthy Climate filtration systems, including:
MERV (Minimum Efficiency Reporting Value) air filters

MERV 10 – This system filters the air to remove particles that can affect the IAQ inside your home.
MERV 16 – This model has the highest efficiency of the MERV series.
PureAir – The PureAir air purification system filters out dust, dirt, pollen, and allergens, as well as airborne mold spores and bacteria. In addition, it repels odors and chemical vapors. The PureAir system removes more than 95 percent of particles in sizes down to .3 micron, and more than 90 percent of bioaerosols in sizes down to .01 micron.
If you're considering installing a filtration system in your home, contact Ernst Heating & Cooling. We are more than happy to help you determine the best fit for your Hamel area home.
Whole-House Humidifier installation
Why install a humidifier in your home? Humidifiers increase the amount of atmospheric water vapor indoors. This increased moisture can help alleviate dry skin and nasal passages during cold winter months, and can even decrease the effects of skin conditions like eczema. Humidifiers offer several advantages to your home, too; the additional moisture reduces static electricity and helps keep natural and porous materials from drying out.
Ernst installs humidifiers from Honeywell and Aprilaire, including:
Honeywell Advanced Bypass – These compact humidifiers are easily installed within your central heating and cooling system and are easy to maintain with just a periodic pad replacement necessary. The advanced bypass system is also remarkably quiet—it's truly out of sight, out of mind!
Honeywell Advanced Fan Powered – This whole-house system cuts water waste by up to 50 percent, as it only runs when humidity is needed. It's also far quieter than other fan-powered models.
Aprilaire 800 – Powered by steam, this whole-house humidifier is ideal for larger homes and maintains efficiency with an Automatic Digital Humidifier Control. It runs quietly and requires little yearly maintenance.
Learn more about our humidifier services.
A humidifier can be a great addition to your home that improves the overall wellbeing of you and your family. Contact a member of our team to learn more.