Providing Cooling Services in Edwardsville, Glen Carbon, & Highland, Illinois
In the East Illinois area the weather can exceptionally unpredictable. But if we can count on anything, it's that when those summer months finally settle in, things can heat up and fast. When the heat waves hit and you find yourself struggling to keep cool, look to the experts at Ernst Heating & Cooling to provide the top-quality cooling services you need!
Your home deserves only the very best in cooling services. If you're looking to replace, repair or install a new HVAC system in your Metro East Illinois home, the specialists at Ernst Heating & Cooling have the answer. Contact our team today to find out more about how we can help!
Metro East Cooling Services
Air Conditioner Installation and Replacement
When you're looking for dependable, high quality air conditioner installation services, Ernst Heating & Cooling can supply you with the very best. Though our specialists can handle repair of any make or model of HVAC system, when we perform your air conditioner installation, we use the industry-leading systems provided by Lennox.
Considering a fresh installation for your Metro east home? Excellent! A new, high quality Lennox air conditioning system can provide your home with:
Increased efficiency, providing you with greater comfort, at a fraction of the cost
A lower frequency of repairs, breakdowns and system failures
Strong, dependable comfort throughout the season
Need an air conditioning replacement? If your cooling system is more than 10 years old, it's time to start shopping for a new one.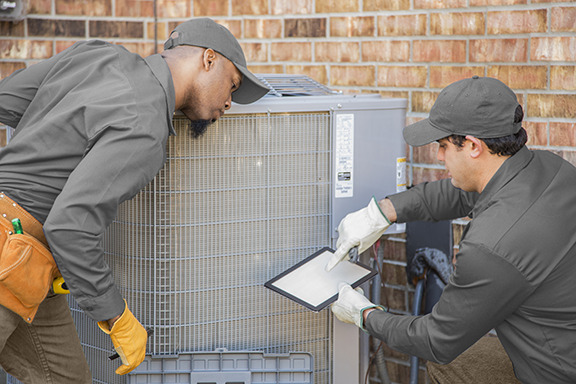 Air Conditioner Repair
When you find yourself bereft of the cooling you need in the dead of an East Illinois summer, it can be a huge source of discomfort and stress! Don't go without the comfort you deserve this season, contact our experts at Ernst Heating & Cooling today!
You may need air conditioner repair if:
Cooling is inadequate
Sudden spikes in energy costs, often coinciding with decreased comfort levels and "warm spots"
Odd sounds including clanks, whistling and loud 'knocking' coming from your unit
System failure
Reduced air quality within the home
No matter your air conditioning repair needs, we can have you set to handle the hottest of summer days in no time! Our experts can provide peerless service that is fast, effective and never skimps on quality! Want to know how you can prevent breakdowns before they happen? It's all in regular AC tuneups.
Ductless Mini-Split Installation & Repair
A ductless cooling system (also called mini-split system) provides your home with effective and efficient cooling. Many homeowners in our area already enjoy the greater comfort, control and increased efficiency of our systems!
If you're looking for the best solutions for your Metro East home, a mini-split system installation might be the right choice for you! Ductless systems provide:
Zoning. One of the most attractive features of a mini-split system is the "zoning" feature. All rooms equipped with an output unit can be controlled separately, meaning you have the choice to cool rooms as you see fit! This means increased comfort, reduced costs and drastically improved quality of life.
Versatility. With each unit installed as needed, and without the requirement of a duct system, mini-splits offer an excellent solution for homeowners looking to save space, or avoid costly duct installation.
Improved air quality. Ductless systems work with a unique filtration system that can drastically improve the air quality in your home. This can reduce allergy symptoms and improve overall health!
With these benefits (and even more), Ernst Heating & Cooling is confident that a ductless system is the right choice for your East Illinois home. We also offer:
Geothermal Heat Pump Installation & Repair
Geothermal energy has become highly sought after in the past decade. Why? Because a geothermal system provides unmatched efficiency and effectiveness throughout the HVAC industry! A geothermal system taps into the natural resource of thermal energy that naturally exists underneath your home, harnessing it to keep your home comfortable year round!
With a Geothermal Heat Pump installation, you'll benefit from:
Dramatically reduced energy costs
Improved home safety by avoiding the emissions of gas and oil-operated systems
Reduced maintenance costs and frequency of maintenance
And more!
Want to learn more about geothermal heat pump installation or repair for your East Illinois home? Our experts can help!
Local Cooling Services in the Hamel, IL Area

Why call us? Ernst offers:
Options. Our techs make sure that you understand the repair we're making, how long it will take, and how much it costs—and why. They will also present options to you if applicable.
Expertise. Ernst's installation technicians go through a minimum of one hour of training a week. This helps them stay on top of new technologies, HVAC trends, and new ways to help our clients.
Innovation. Ernst was the first in the Metro East area to offer geothermal energy systems, and we are always striving to be at the forefront of the industry.
Payment plans. Just ask; we have several financing options available through reputable national companies.
Contact Ernst Heating & Cooling online or by calling us at 618.217.1836 to schedule your cooling services in Madison County!