Heat Pump Services in Metro East Illinois
Providing Heat Pump Repair, Installation & Maintenance Services in Madison County, IL
Are you searching for an efficient, effective way to heat and cool your home? When you invest in an air source heat pump, you no longer need separate units to heat your home during the winter and to keep it cool during the summer. To provide homeowners with comfortable home living, this product was engineered with optimal efficiency and ease of use in mind.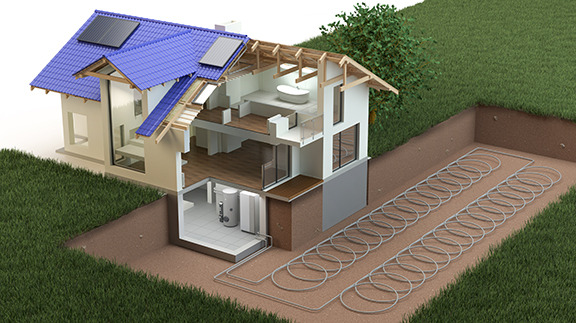 When it comes to keeping your Illinois home comfortable, you can rely on Ernst Heating & Cooling to keep your family happy all year long. Our trained HVAC professionals are able to provide you with quality heat pump repair, installation, replacement, and maintenance services in the Hamel and Edwardsville areas.
To schedule a heat pump service with the professionals at Ernst Heating & Cooling today, give us a call at 618.217.1836!
Contact Us for Service
Heat Pump Repair in the Metro East IL Area
When your heat pump gives out in the middle of a scorching summer or an ice cold winter, you need repair service—and you need it fast! With our dependable HVAC technicians, you can expect our team to arrive in just hours. Because we understand the importance of your comfort and your time, we will arrive promptly to provide a full assessment of your unit. Once the assessment has been completed, our crew will provide you with repair or replacement options for your unit.
Learn more about our heat pump repair services in Hamel & Edwardsville »
Air Source Heat Pump Installation & Replacement
An air source heat pump is a system that transfers heat either from the inside of a building to the outside, or vice versa. These models provide Illinois homeowners with reliable heating and cooling throughout the entire year. Not sure which heat pump is the right fit for your Edwardsville home? We are here to help! Our professionals will be able to walk you through the installation process and find a product type that suites your unique needs and budget.
For all emergency situations, we offer 24-hour heat pump services. So, when you need us, don't hesitate to give us a call at 618.217.1836!
Heat Pump Maintenance
Just like your car, your heat pump also requires annual maintenance to run efficiently and effectively. Without regular tune-ups, your heat pump may not last as long and could require more frequent and costly repairs. During our maintenance service, our trained technicians will complete a full assessment of your unit and replace any clogged filters. You can keep your Hamel home comfortable during every season with routine tune-ups.
Contact us today to schedule your annual heat pump maintenance in the Metro East IL area!
Heat Pump Services in Hamel & Edwardsville
Since 1977, Ernst Heating & Cooling has been providing quality home comfort and air quality solutions to homeowners in the Hamel and Edwardsville, IL areas. When you need reliable, fast service for your home's HVAC—you can rely on our team of trained and licensed technicians.
Call Ernst Heating & Cooling at 618.217.1836 for all of your heat pump repair, installation, replacement, and maintenance services in the Metro East IL area!
Our Service Area
We provide heat pump services throughout Madison County, IL and the following areas:
Alhambra, Alton, Bunker Hill, Collinsville, Dow, Eagarville, Edwardsville, Gillespie, Glen Carbon, Hamel, Hartford, Highland, Hillsboro, Irving, Jersey County, Jerseyville, Lebanon, Litchfield, Livingston, Madison County, Marine, Maryville, Mascoutah, Mitchell, Moro, Mount Olive, Mulberry Grove, New Baden, New Douglas, Piasa, Staunton, Trenton, Troy, Walshville, Wilsonville, Wood River, Worden, and more!