Furnace Maintenance Available in Glen Carbon, Edwardsville, Hamel & Surrounding Areas
Illinois residents experience all four seasons. We take on heat in the summer, damp temperatures in the fall, below freezing snow storms in the winter, and cool temperatures in the spring.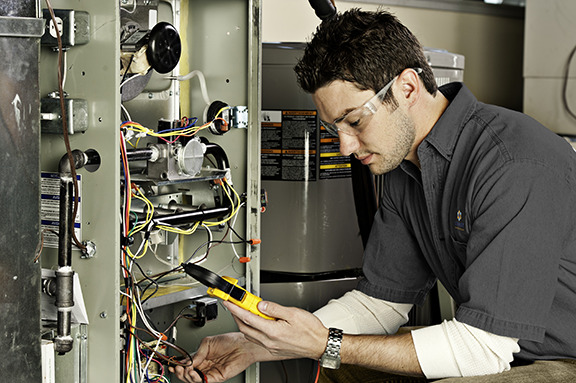 That means your home's HVAC systems may sit unused for certain parts of the year. When the cold weather arrives and you turn on your furnace for the first time in months, you may notice it's not working as it should. Without proper maintenance throughout the year, your furnace won't be operating at maximum efficiency. But there is no need to worry, because Ernst Heating & Cooling is here to help you make sure your furnace works when you need it.
Is your furnace ready to operate at peak efficiency? Contact Ernst Heating & Cooling today to schedule a furnace maintenance appointment in Glen Carbon, Edwardsville, Hamel, and surrounding areas!
Furnace Tune-Ups in Madison County
Scheduling a furnace maintenance and tune-up appointment now will help to ensure the comfort and safety of your family. Why chance a breakdown in the dead of winter when it could have been prevented?
Maintaining a furnace properly involves much more than just occasionally changing its air filter. You need annual furnace service from a trained HVAC technician to make sure your system is running its best. Our precision furnace maintenance service includes:
Professional inspection – Our comprehensive heating system inspection includes checking the thermostat, controls, condensate drain, refrigerant level, and all moving parts. We carefully examine every element for safety and performance issues.
Cleaning – We thoroughly clean your furnace to help it run more efficiently throughout the cold Illinois winter. We also clean the blower to create increased airflow.
Lubrication – As with air conditioners, poor lubrication can affect every aspect of a furnace's performance. We will examine all moving parts and make sure they are fully lubricated.
Tightening and adjustments – Loose electrical connections can cause safety issues and shorten the lifespan of your heating system. Our skilled technicians will test and adjust blower components, and, when necessary, adjust motor voltage and currents.
Ready to schedule your furnace tune-up in the Hamel area? Call us today at 618.217.1836!
Benefits of a Heating System Tune-Up
Our heating experts have outlined the top five benefits to a well-maintained heating system:
Longer equipment life – Regular furnace checkups address problems such as dirt and dust buildup, loose electrical connections and frayed fan belts. A clean, well-tuned furnace will last longer than one that is neglected for years at a time.
Better efficiency – Regular preventive maintenance also ensures that a furnace is operating at peak efficiency. The system doesn't have to work harder to produce the heat your family needs to stay warm during the winter months—and that saves you money on your heating bills.
Problems identified early – Reputable furnace technicians are trained to look for potential problems in a heating system while they conduct an annual maintenance visit. When one is identified, they can address it immediately, without inconveniencing you by returning at a later time.
Fewer unexpected repairs – Because regular preventive maintenance is able to catch so many issues upfront, you are likely to have fewer surprise furnace repairs. That eliminates hassles and stress for you!
Money saved – Money spent on an average repair visit is far greater than that spent on an annual checkup. You can avoid extra expenses just by properly maintaining your system.
The best thing you can do for your furnace is to schedule regular preventive maintenance. Schedule your furnace maintenance in Hamel, Edwardsville, Glen Carbon, or surrounding areas today!
Energy Savings Agreements from Ernst
There's nothing worse than your furnace giving out on the coldest day of the year. Don't leave your family in the cold, piling on blankets to keep warm. Instead, sign up for our Energy Savings Agreement for peace of mind and working HVAC equipment year-round.
With our Energy Savings Agreement, you will receive:
Two precision HVAC tune-ups a year (one on the air conditioner, one for your furnace or heating system).
A 15% discount on any repairs that need to be made.
Priority scheduling.
Automatic scheduling of maintenance appointments—you won't have to remember to call us; we'll call you to set the appointment!
A 15% discount on filters.
Peace of mind knowing that you have done everything you can to reduce the risk of a major breakdown!
Just like regular maintenance is the best way to keep your car running like it should, regularly scheduled professional maintenance for your Hamel area home's heating system helps keep it operating at its highest efficiency—and can spot problems before they happen!
Contact Ernst Heating & Cooling to sign up for this amazing plan—it's one you won't want to miss!
Schedule Furnace Maintenance in Metro East with Ernst
At Ernst, we've been serving the Metro East area since 1951! With a history of excellent customer service and a team of knowledgeable technicians, we're here to help keep your home comfortable year-round!
Schedule preventive furnace maintenance online or by giving us a call at 618.217.1836.