The Homeowners Ultimate Home Maintenance Checklist
Wish you had a checklist of necessary home maintenance tasks? We created one! Download this handy list, print it off, and never worry about when to perform certain home maintenance tasks again.
By completing everything on this list each year, your home will operate more efficiently, and you'll be less likely to need emergency repairs on your HVAC and exterior home.
Download the checklist below!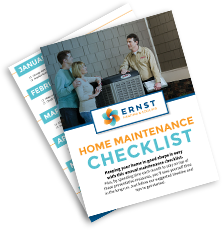 Home maintenance checklist
Service in Just Hours
What People Are Saying About Ernst
Reviews for Ernst Heating & Cooling
305 customer reviews
Average rating:5
Were here in a timely manner and fixed the problem.
by
maynard w
on
10/17/2019
On time, friendly, and answered all my questions.
Our A/C was not keeping up with the requested temp. on our thermostat. Called Ernst Heating & Cooling and told...
After 25 years of dependable professional service I feel qualified in saying Ernst Heating & Cooling is excellent...
More Verified Reviews